We all know that web pages aren't written for search engines – they're meant for people. Findability is not an end in itself: it's simply a means of bringing more readers through to your landing pages and blog posts. Yet we all know from our own experience of searching for things online that if something doesn't appear on the first page of the search results, then it may as well not exist. Search-engine optimisation (SEO) helps your pages rank highly in search results, giving them the visibility they need for potential readers to find them easily.
Visibility is only one aspect of boosting your online presence, however. Finding the right balance for content that ranks highly on search engines but is also engaging, visually appealing and business-focused is a team effort, involving SEO experts, digital marketers, content specialists and managers.
If your website's only in one language, then your work is more or less done. But what if your website is in multiple languages for different markets, or if you're targeting English speakers from different countries? If that's the case, then you can add a localisation specialist to the list of professionals above.
In this article, we'll look at how to localise your search engine strategy if you're planning to expand your business, using examples from the English-speaking world and the Nordic region.
Regional variations within the same language
The amount of SEO effort you need to put into your website depends primarily on the volume of content you create, although it depends on your business strategy too. It's one thing selling products or services for English-speaking people in the US, but a whole different beast if your target market includes the UK too.
Let's take the example of fictional online clothing retailer "YourStyle". It's important to rank highly for the word pants in the US and trousers in the UK (the word pants in the UK typically refers to underwear). Like SEO, localisation is also about understanding the user's intent – in this case purely from a language perspective.
To check whether you've made the right wording choice, it's always useful to double-check on a search engine. A good way to do this is with a VPN, which allows you to simulate an internet connection in any country. The image below shows a search for pants on the US version of Google: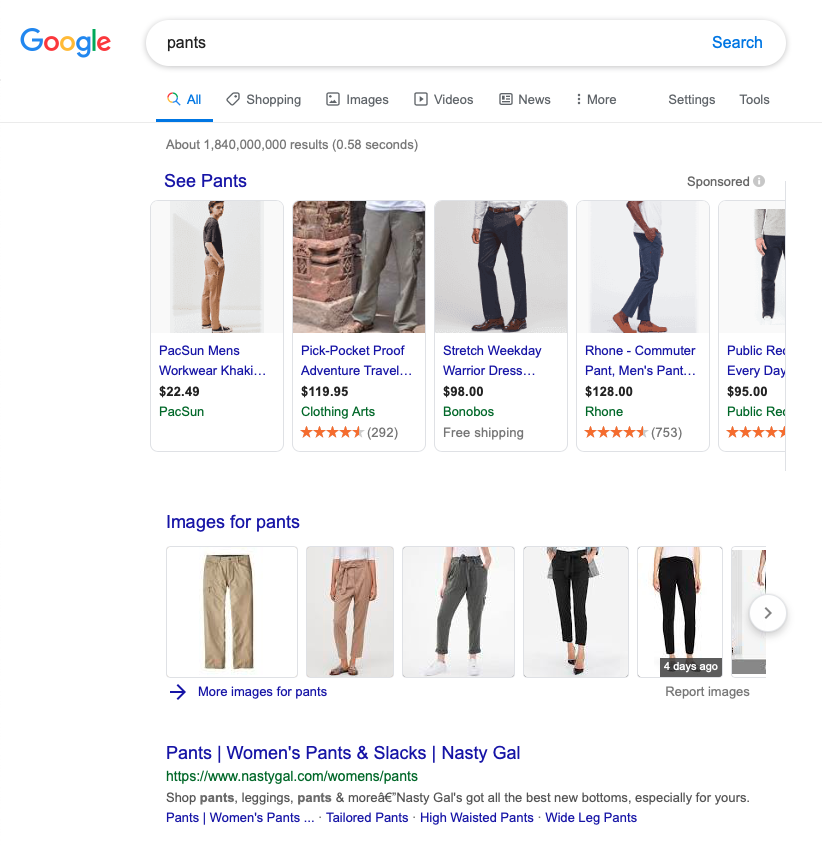 You can confirm trousers is indeed the word you need to target the British market just by looking at the results Google offers. In both examples, Google offers images of the right product and links to retailers that searchers can click through to make a purchase.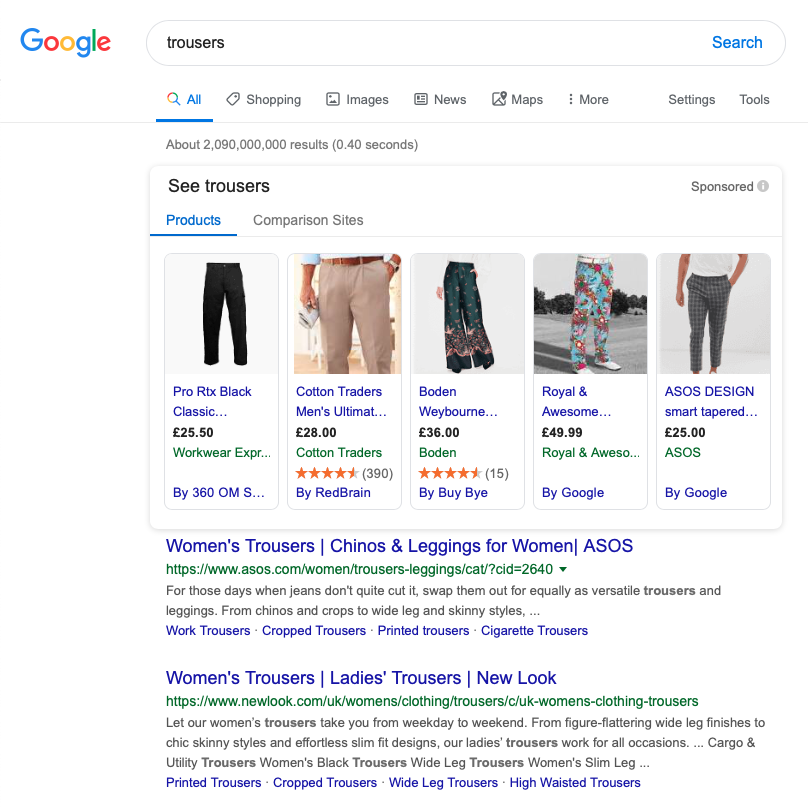 SEO across multiple languages
Let's return to YourStyle, our fictional clothing retailer. They're looking to expand to new markets after a successful launch in the UK. Market research finds that consumers in the Nordic countries have significant spending power and represent the next big opportunity for YourStyle.
A common strategic mistake when entering the Nordic market is to assume that English will do – after all many Nordic people speak excellent English. The reality is that growing your business in this region requires you to build up an online presence in the local languages: Danish, Finnish, Icelandic, Norwegian and Swedish. If YourStyle really wants to truly penetrate this market, the old adage of speaking the language of your customers undoubtedly applies.
Here are some tips for properly localising your SEO strategy.
1. Think topics first, keywords second
There's now broad consensus that individual keywords on your website aren't what rank you highly: it's about producing the best content with a dynamic range of terms and contexts on a specific topic. As SEO shifts towards this topic-based model, it's important to define topic clusters before defining your keywords.
In essence, the topic-cluster model – popularised by HubSpot – is a way of organising content on your website so that search engines know you're an authority on that specific subject. The model is built around a central pillar page (which acts as a "content hub" for a single topic) and multiple content pages on the same topic that link back to the pillar page and to each other.
If you've already built your content with the topic-cluster methodology in your source language, then you're off to a good start. The question then becomes one of which pages to localise. Many companies choose to translate only their pillar pages, which may seem like an obvious move as that's where most conversions take place. But this doesn't help your overall multilingual SEO strategy. The right approach is to translate all the pages in the cluster and replicate your SEO efforts in your source language in your target one.
2. On-page keyword planning
Once you've got a clear understanding of which topics you want to become an authority on, you can start planning and analysing on-page keywords. If you've done your research properly, you will have chosen your keywords in your source language using the following criteria:
Search volume: Search volume is a measure of the total number of searches made through a search engine expressed as the average monthly volume over the previous 12-month period. Search volume data is a crucial, fundamental element of your SEO strategy. If you're localising your website from English into the Nordic languages, you can expect search volume to be lower: the combined population of the Nordic countries is around 24 million. On the contrary, if you're localising in the other direction (into English), search volume can increase exponentially. But search volume alone says nothing if you don't use it together with other metrics such as keyword difficulty.
| | | | |
| --- | --- | --- | --- |
| Locale | Keyword | Search volume | Competition |
| English (US & UK) | e-commerce platform | 1,300 | High |
| Swedish (Sweden) | e-handelsplattformen | 390 | High |
| Norwegian (Norway) | netthandelsplattformen | 10 | Medium |
| Finnish (Finland) | verkkokauppa-alusta | 260 | High |
| Danish (Denmark) | e-handelsplatform | 10 | Medium |
| Icelandic (Iceland) | netverslunarkerfi | 10 | Low |
Source: Google Keyword Planner
Keyword difficulty: Determining the difficulty of a specific keyword requires understanding the level of competition. What pages are currently at the top of the rankings? What kind of content are they offering? Can you offer something better? SEO experts usually take a look at SERP (search engine result pages) history to know if competition at the top is too tight or if there a window of opportunity.
It might seem logical that if you can't offer better content than those top pages, then that keyword is probably too difficult for you. That might be the case for English – but not for your other locales. The top results in your different locales are unlikely to feature the same sites as they do in English. It's worth bearing in mind that more than 50% of content online is in English, so naturally there's a great deal more competition for English keywords. Analysing the SERP history for translations of your keywords can open up opportunities to shoot to the top of the rankings more quickly.
Search intent: Your webpage might be perfectly optimised and still not rank as highly as you want it to. Sometimes it's not just about getting the core parts of SEO right, but also about understanding users' search intent, i.e. what exactly it is they're trying to achieve with their search.
What does this mean in practice? Google is now capable of evaluating your website's user experience and uses this data to tweak its rankings. Let's imagine you have two pages – both perfectly optimised – but one offers a free trial while the other doesn't. It's highly likely that the page with a free trial will rank more highly over time. In this article, SEMrush addresses this topic in detail.
It's vital to remember that search intent and user experience can be as culturally relative as language. In some countries, it's not realistic to expect every customer to enter their credit card details to start a free trial. In the Nordic countries, a good strategy is to not overburden your pages with triggers and banners: a minimalistic approach that embraces negative space is likely to be more effective.
3. Text expansion and contraction
There are some technical aspects to search engine optimisation. One example is the character limit for SEO attributes like title tags or meta descriptions – Google typically displays the first 50–60 characters of a title tag and 155–160 for the meta description.
Even if you've done an excellent job with your keywords in English, one of the issues you need to consider when translating the text from English into other languages is text expansion and contraction. These are two common concepts in translation and refer to the phenomenon of text getting longer or shorter when translated into a different language. When text is translated from English into Nordic languages, it usually becomes a bit longer and could potentially exceed the recommended limits for these SEO attributes.
Below, we show how a title tag and meta description can expand and contract. These are our examples in English:
Title tag: The best e-commerce platform for small businesses (49 characters)
Meta description: We're not just an e-commerce app – we're the best e-commerce platform that has everything you need to sell online, on social media or face-to-face. (147 characters)
And here is the example translated into Swedish and Finnish:
Translation
Character difference
Swedish
Den bästa e-handelsplattformen för småföretag
-4
Vi är inte bara en app för e-handel – vi är den bästa e-handelsplattformen med allt du behöver för försäljning online, på sociala medier eller direkt till kunden.
+15
Finnish
Paras verkkokauppa-alusta pienimuotoiseen liiketoimintaan
+8
Enemmän kuin verkkokauppasovellus – paras verkkokauppa-alusta, joka tarjoaa kaiken, mitä tarvitset myyntiisi verkossa, sosiaalisessa mediassa tai kasvotusten.
+11
Here the Swedish actually used slightly fewer characters than the English, whereas Finnish needed more.
---
Key points
Generally speaking, the key to a successful multilingual SEO strategy boils down to two things: content volume and language diversity.
Ensure your SEO architecture in your source language is well structured before starting to localise it. Review Hubspot's topic cluster theory to check whether you're on the right track.
When picking content for translation, try to choose pillar pages and pillar content from the same clusters to increase your chances of ranking highly in your target languages.
Remember keyword difficulty varies by language, and thus the chances of you ranking at the very top of the search results.
Optimise traditional SEO elements and localise your keywords with search volume and character length in mind.
Partner with localisation specialists to make sure your keywords are translated with an understanding of how search intent works in the target culture.
Creative services, Marketing translation, Search engine optimisation, Translation technology