Sandberg Translation Partners (STP), has been recognised as a top employer in Adaptive Globalization's Best Employers in Localization Awards (BELA 2017).
In the under $25 million revenue division, STP was named as Best LSP for Employee Wellbeing and runner up Best LSP for Employee Benefits.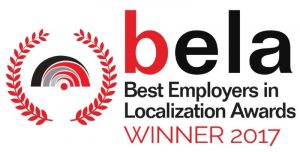 Speaking about the awards, STP Managing Director, Anu Carnegie-Brown, said that in her opinion, employee engagement, support and wellbeing were key to running a successful business.
''STP strives for a healthy and professional workforce and we want to ensure that working with us is as pleasant and rewarding an experience as possible, both vocationally and socially.''
Our employees are challenged to reach their full potential and are given the flexibility and resources to grow professionally within the organisation, but they are also part of a close-knit team that supports and looks out for each other,'' she said.
STP Human Resources Advisor, Mel Baker, said the awards are a welcome recognition that STP is getting the mix of offering career advancement and a fun and healthy workplace right.
''We work on the ethos that healthy employees are happy employees and we offer a range of benefits, including private healthcare with subsidised gym membership, our 'Back to Better' scheme, 24-hour counselling services, stress management training, a cycle scheme and discount childcare and shopping vouchers. We also allow staff to work 20% of their week from home.
Additionally, we arrange a host of social events throughout the year and offer healthy eating and stress relief tips, desk exercise suggestions and weekly coffee mornings where employees can gather and chat over cake and coffee before starting their working week,'' she said.
A recent Staff Satisfaction survey (2016), revealed that 96% of staff would recommend STP as a good place to work, 98% believed that employees are treated with respect, 92% believed they have the opportunity for professional development and growth and 80% would choose to stay with STP even if they were offered a similar job with slightly higher pay at another company.
These numbers are very encouraging, according to Anu.
''A business is only as good as its workforce, and here at STP, we value and respect our staff for the contributions they make daily. They are more than employees to us, they are assets, friends and peers,'' she said.