Independent market research firm Common Sense Advisory names STP as 73rd largest company in $40.27bn global industry.
Sandberg Translation Partners Ltd (STP), the world's largest translation company specialising in the Nordic languages, today announced its official ranking among the top 100 service providers in the translation and interpreting industry.
In its July 2016 report "The Language Services Market: 2016", the independent market research firm Common Sense Advisory (CSA Research) revealed STP as one of the most prominent players in the $40.27bn global market for outsourced language services and technology. Based on turnover for the calendar year 2015, STP was named the 73rd largest translation vendor in the world and ranked 19th in northern Europe.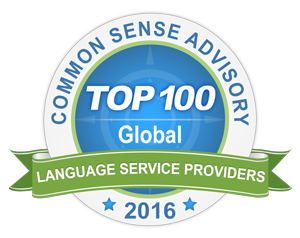 Co-founded in 1995 by respected industry veteran Jesper Sandberg, STP provides ISO 17100-certified translation and localisation services into Danish, Finnish, Icelandic, Norwegian and Swedish, and from a wide range of source languages into English. The company's business model is based primarily on serving the needs of other language service providers, and the strength of that model is evident in the fact that 39 of STP's clients are also in the global top 100 for 2016.
"It is extremely pleasing to see STP – a niche business in a highly competitive market – hold its place in the top 100 for a fourth straight year," said Sandberg, now the company's executive chairman. "Our continued success is testament to the strength of our business model, and to the sterling efforts of our talented employees and suppliers. We are endlessly grateful to our clients for their loyalty and support, and it is satisfying to know that we have played a part in helping so many of them achieve their own strong positions in the top 100."
CSA Research, which has published market size estimates and global rankings for the past 11 years, found that the demand for language services continues to rise, with an annual growth rate of 5.52%. As part of the study, the firm surveyed language service providers to collect actual reported revenue for 2014, 2015, and expected revenue for 2016.
With organisations large and small needing translation support in an ever-expanding range of languages, CSA Research predicts that the language services industry will continue to grow and that the market will increase to $45bn by 2020. Factors driving this demand include continued growth in global mobile and ecommerce; the internet of things (IOT); and legislation requiring access to language services for immigrants, refugees, in the courts, and for public safety.
"Demand continues because the market for outsourced language services and supporting technology is immensely important to the businesses, government agencies, non-profits, and individuals that produce or consume information," says Don DePalma of CSA Research.
About Common Sense Advisory
Common Sense Advisory is an independent market research company helping companies profitably grow their international businesses and gain access to new markets and new customers. Its focus is on assisting its clients to operationalise, benchmark, optimise, and innovate industry best practices in translation, localisation, interpreting, globalisation, and internationalisation. For more information, visit: http://www.commonsenseadvisory.com or www.twitter.com/CSA_Research.
Contact STP
For more information about STP, or to request a quote for our Nordic translation services, please fill out our quick and easy contact form.