Engaging with academia: Whiteley hosts interns from Agder
This spring, STP welcomed a group of interns from the University of Agder in Norway. The interns were based in the head office in Whiteley. During the internship period, they got a chance to learn how to use CAT tools in practice and to become acquainted with the process of translation as a professional activity.
Nathalia Bru, who was one of the interns this spring, felt her time in Whiteley was fruitful: "I found the internship to be a really good experience and am very happy that I got the chance to come and work with all the great people here at STP. I've learned the importance of deadlines and how it is to work a full day. I've also taken all of the feedback in and it will definitely come in handy in the future."
STP's cooperation with the University of Agder is a longstanding one. Learning and Development Manager Raisa McNab is proud that STP is part of the university's BA in Translation students' journeys towards a career in language services: "Each semester, we welcome one to four interns from Agder who come to STP for a period of three to four months during their year abroad. They are exposed to the day-to-day life of a busy translation company, and at the end of their internship have a very concrete, realistic view of what life is like as a professional linguist."
STP's Managing Director Anu Carnegie-Brown views internships as beneficial for all parties: "A typical translation graduate coming out of university has to work hard on two fronts of their professional capability: the quality of their output and the speed of it. There is a cost to this learning curve, both to the individual and to the company who first employs them in-house. Good-quality internships reduce the time and cost of the learning curve, and bring ROI to the university, enterprise and graduate."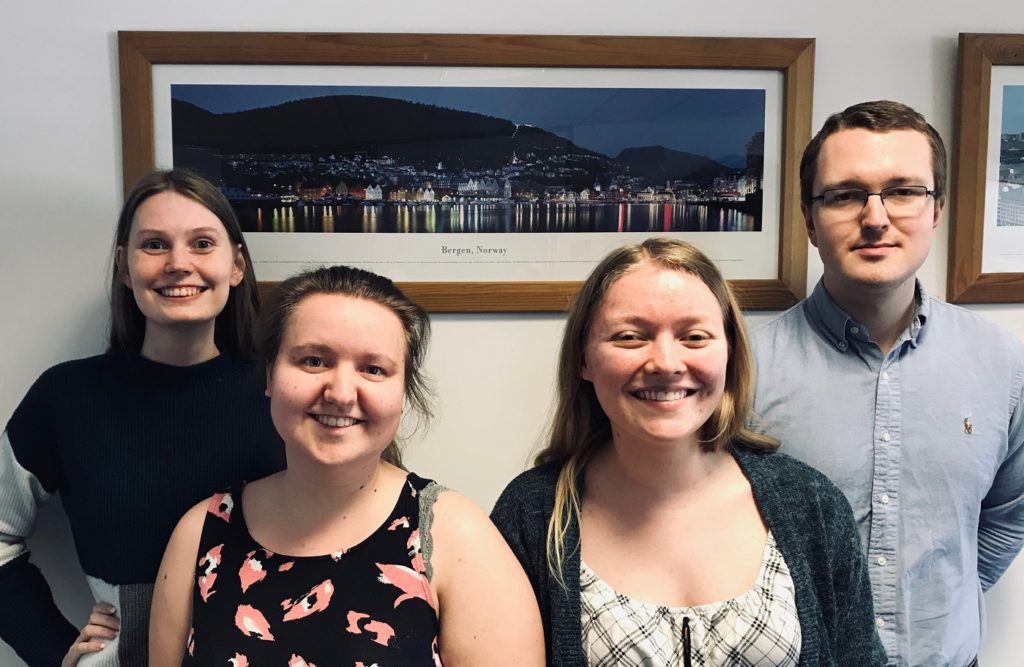 Variety is the spice of life: HR matters in an international LSP
The translation industry exists because people need to and want to communicate across language barriers. This means that many translation companies are not only full of multilingual people, but that they often include employees from different language backgrounds and cultures.
At STP, we mostly focus on translation into the Nordic languages and English, but our staff is more diverse than that might suggest. In fact, STP's staff includes people with 15 different nationalities, living in a number of different countries. In addition, we have five offices in three countries (the UK, Bulgaria and Sweden).
HR Advisor Melissa Elsey
enjoys the variety that having staff in many locations brings. She points out that the harmonised legislation in the different countries makes things easier: "Employment laws in each of the countries that STP operates in vary based on the country jurisdictions, but some laws are the same as the UK because Sweden, Denmark, Finland and Bulgaria are all currently in the EU."
While legislation does not vary wildly between various EU countries, there are local differences that need to be taken into account. Melissa mentions that the HR team recently compiled a Danish and Finnish Staff Handbook: "To do this, we engaged a Danish and Finnish employment law specialist to advise on the employment laws in both countries. We have a localised Staff Handbook for each country that STP operates in and employment law contacts in each country whom we can contact for advice."
"We research various sources online to check the law and any changes to the law in each country. Luckily, we can find some of the employment laws online in English, but if not, we get the information we need translated."
Within the legal framework, a company must have strong internal principles to operate well across countries. Melissa finds this a simplifying factor: "I think that because STP reflects the Nordic style of employment and values throughout the whole company, it makes it easier to implement STP's company policies in each country. It's great having a workforce in different locations in Europe, whether office or remote based."