This autumn has seen celebrations in our Whiteley and Varna offices and virtually across the entire company and visitors in many of our offices.
Halloween was celebrated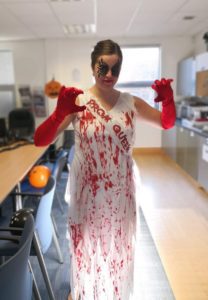 throughout STP with decorations and treats in the offices and staff in other locations taking part, too. A company-wide competition was organised to choose the best costume and the best carved pumpkin from entries submitted by people working in the four offices or remotely. The winner of the best costume was Danish translator Christina Bjerggaard with her gory prom queen and the best pumpkin was Norwegian translator William Hagerup's entry – one side carved by him, the other by his daughter. We'll leave it to you to guess which one is which: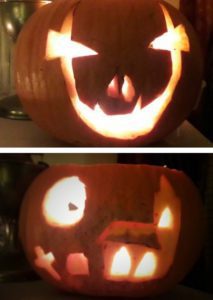 STP's Varna office participated in the pumpkin carving, too, but it was their collective effort at costumes, decorations and treats that wowed everyone.
Project Manager Veronica Marinova: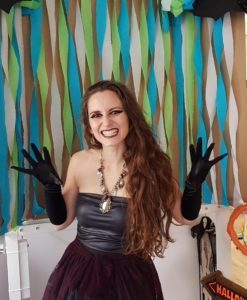 Client Service Assistant Natali Yordanova and Vendor Coordinator Hristina Doncheva: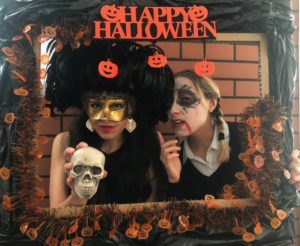 In addition to the celebrations, STP's Whiteley office has hosted colleagues coming in for team meetings: many of the teams at STP are based in multiple locations, either in various offices or working remotely. While this is a real benefit to both the company and the team members themselves, STP makes an effort to bring colleagues together to meet each other in person regularly. This year, the translator teams have continued the practice of spending a few team days in the Whiteley office after last year's successful trial.
One of the teams to visit Whiteley was the Danish translator team (pictured below; from left to right: Junie Haller, Amila Jasarevic, Christina Bjerggaard and Trixie Hauberg).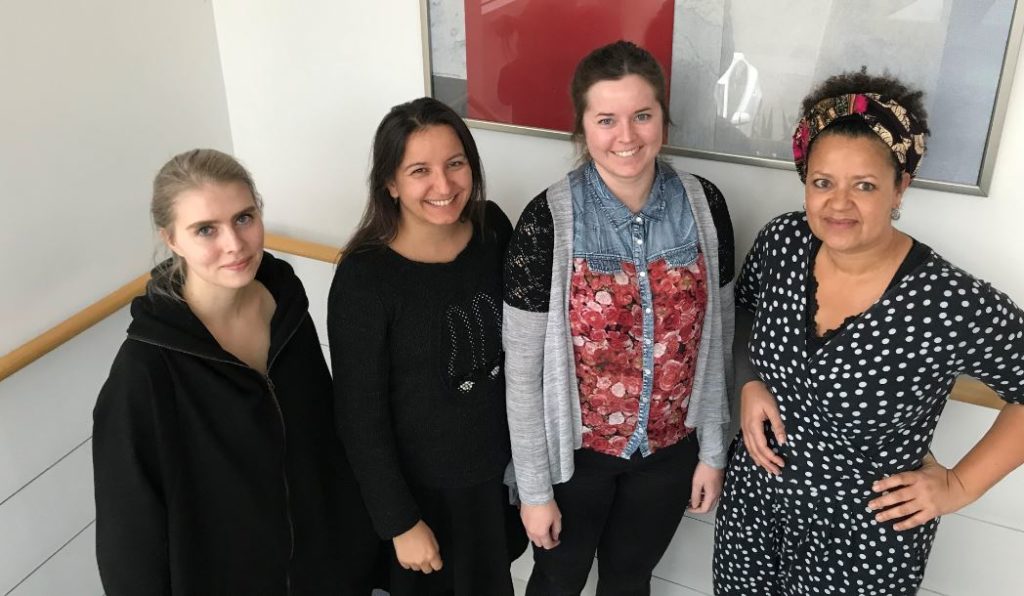 The team focused on working together during their stint at the office: each team member shadowed others and was shadowed, took part in a team meeting, a review meeting with their line manager, a brainstorming session and had many chats over lunch. On their last night, they all headed for a drink at the local pub and a team meal.
Christina, who joined the Danish translator team earlier this year, found the days they spent together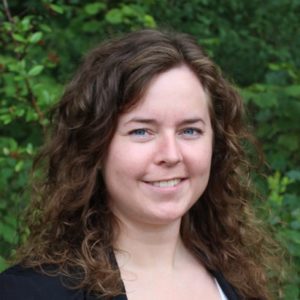 very useful: "For me, it was very beneficial professionally as well as socially to meet my team mates in person. I learned a lot and got so many nice little tips from shadowing all three of them and it has definitely made me work more efficiently. And it was so nice to meet all of them properly and get to know them a bit better. It was very lovely to be able to have a drink and a meal together. I definitely look forward to next year!"
About Sandberg, Company news, Icebreaker, Icebreaker December 2018