With world-leading purchasing power and significant online presence and digital adoption, the Nordics are among the most attractive regions for any business looking to engage with wealthy consumers and make quick returns. But how can you ensure that you hit the target and reach Nordic consumers? Read on to find out. 
Nordic purchasing power
In 2018, the combined GDP of the Nordic region amounted to $1.64 trillion – equating to the 12th  largest economy in the world – an increase from $1.44 trillion in 2015. The 27 million inhabitants of the Nordic countries have a higher GDP per person than the EU, and imports play a significant role in these figures.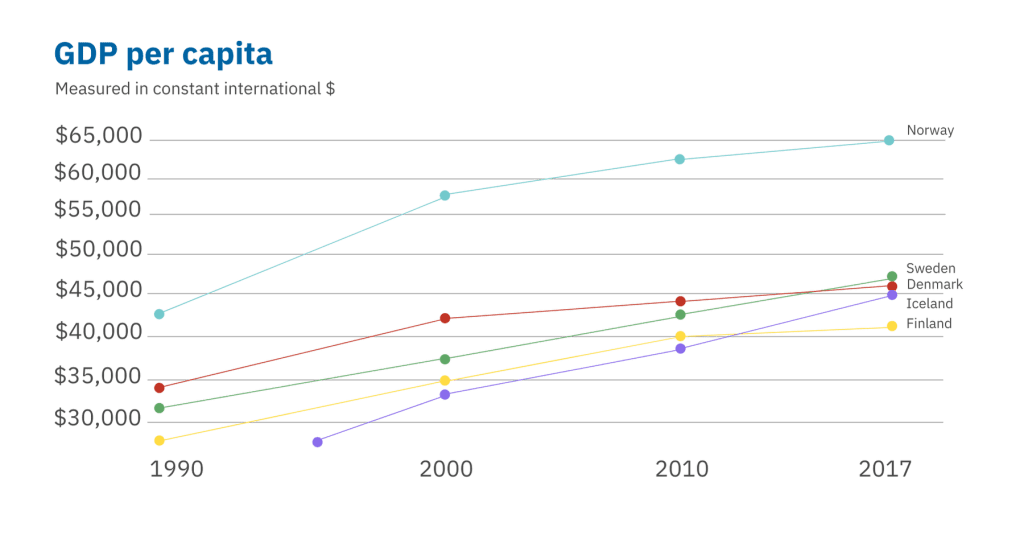 Swedish consumers imported goods worth around $150 billion in 2019, Denmark $99 billion and Norway $89 billion.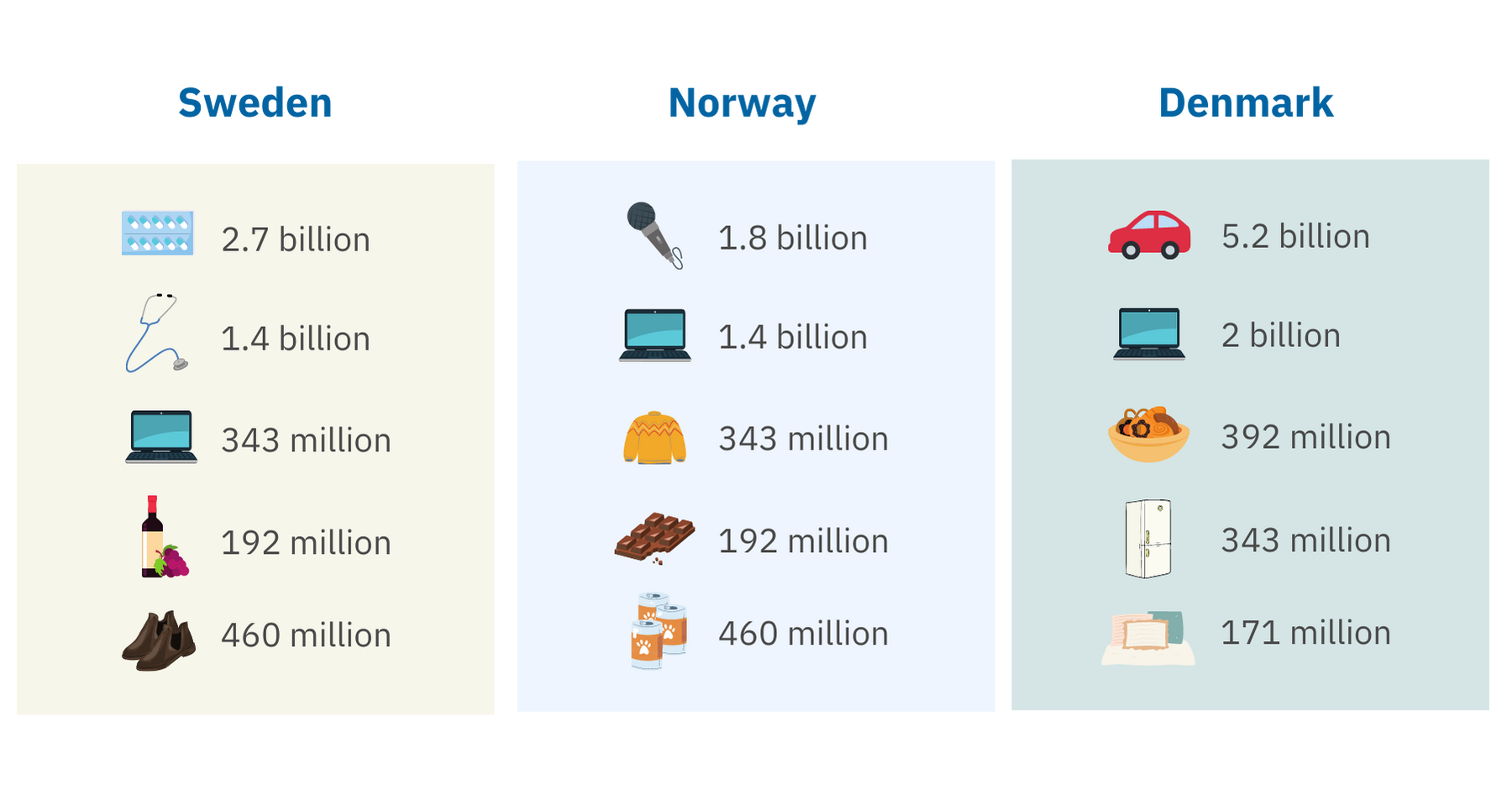 In addition, they are at the global forefront of digitalisation and the adaptation of new technology.  
Online is big bucks
Online purchasing plays an important role in this region, with the average Swedish consumer spending around 1000 euros annually on everything from fashion to groceries, literature and audiobooks, home furnishings, dietary supplements, medication and other pharmaceuticals, sports and leisure products, as well as movies and entertainment and much else besides. This is an attractive and lucrative market for those who are able to successfully place their market stall in the proverbial (or literal) Nordic town square. 
Gradual change but faithful consumers
As the market is smaller compared to the likes of China or Japan, many international companies' focus has been away from the Nordics. The region's market leaders have therefore been dominant for decades. So how do you best ensure that your products or services captivate Nordic consumers? There are three important behavioural patterns to consider when reaching out to these northern populations.
The loyal Nordic consumer
Research by Google and behavioural science experts, The Behavioural Architects, into consumer behaviour, found that the Nordic consumers tend to be faithful once they decide on a favourite brand. 
Willingness to try a second-choice brand is generally lower than in countries such as the UK. In fact, researchers found that the most important element to influence the Nordic consumer's choice was "social proof", i.e. testimony from others who are already using the product or service and have perhaps recommended it. This factor carried more weight than a recommendation from an expert or getting a free gift, two other example methods tested in the experiment, which simulated 310,000 purchase scenarios with 31 product categories using real in-market consumers. 
Moreover, according to statistics collated by Trustpilot, 79% of shoppers say they trust online reviews as much as personal recommendations. The judicious use of both online and printed reviews can really make a difference when enticing the Nordic consumer to purchase your product. 
Nordic consumers
spend more time on their choices
When searching online, Nordic consumers tend to use fewer search terms (two words is most common) before sifting through lots of hits over several days, while considering the various options – 41% take two weeks or more before purchasing a product found online, and 57% carry out five or more searches before purchasing consumer electronics. 
The good news is that such a careful decision-making process makes it easier for newcomer brands to have a chance at delighting the savvy Scandinavian consumer. 
Your web presence can be optimised for Nordic search behaviour by ensuring that key words fit with the sort of short search terms used by Nordics when looking for products or services, whether to buy online or to locate in the real world. And this leads us neatly to the third point: 
Nordic consumers prefer information in their own language
The vast majority of Nordic people are proficient in English up to a point, yet 8 out of 10 Nordic consumers prefer a website to use their own language rather than English.  
The vast majority of Nordic people are proficient in English up to a point, yet 8 out of 10 Nordic consumers prefer a website to use their own language rather than English.
Research by Nimdzi clearly shows that although Nordic consumers will tolerate an English website if a version in their respective languages does not exist, they prefer to interact with products in their native language, and give preference to brands that go the extra mile to localise their products and services.  
The data also show that Nordic consumers are more receptive to advertisements that address them in the language that hits closest to home. As many as 9 out of 10 of these high-value potential customers will ignore a product that is not in their native language and well over half of them would be more interested were the content available in their own language. 
Moreover, two-thirds of e-commerce consumers consider clear information a key element when shopping online. So, whether you offer your goods online or offline in a physical store, having a sharp marketing copy and clear product information in the native language of your target audience will certainly improve your chances on the Nordic market. This includes localised search terms and expressions, along with local language versions of websites, brochures and product information and reviews.  
Now let's take a closer look at the Nordic languages and what it means to localise into them. 
The linguistic specifics of the Nordics
The Nordic region is of course not only one country, and it most certainly does not have only one language. The three Scandinavian languages – Swedish, Danish and Norwegian – share a common origin across the three nations, whereas Finnish is distinct as a Uralic language. 
Then there is Iceland, whose language also belongs to the North-Germanic family of Indo-European languages, like Norwegian, Swedish and Danish. Icelandic is closely related to the Old Norse spoken by the Vikings who settled on the island in the 9th century. Iceland has taken a very purist approach to its language, avoiding the adoption of foreign words and instead developing neologism – new words – for new phenomena and products. An example of this is theatre, which in the Scandinavian languages is teater, but in Icelandic is leikhús (literally playhouse, which of course we know from English, derived from the Old English plega plus the Old Norse(!) hus).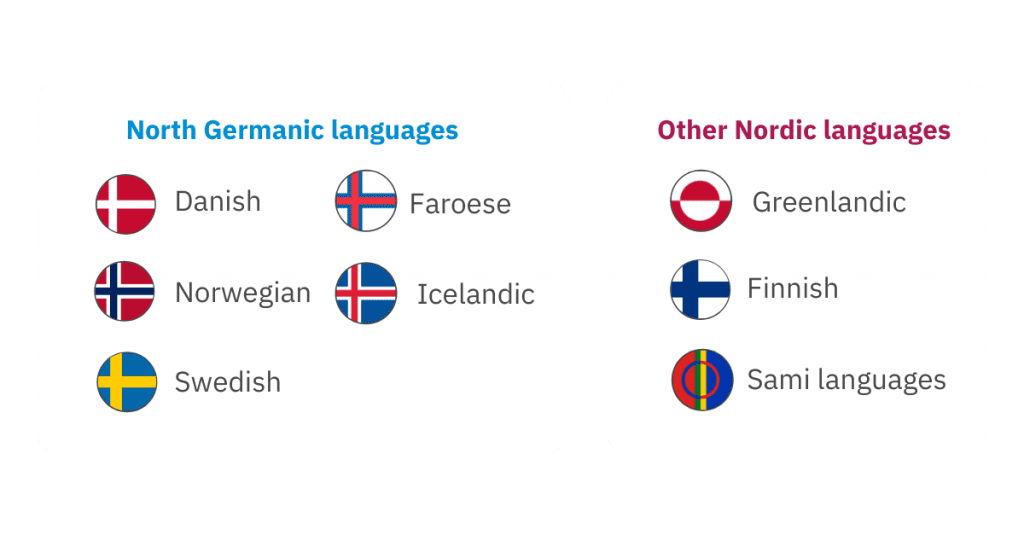 You can read more on the Nordic languages in this blog post.  
Finding t
he right approach
for going local
Understanding the linguistic diversity in the Nordics helps to develop a nuanced and pragmatic approach to localisation in this market.  
One example of a cost-effective way to apply this approach is to use a method known as Scandimix, where the three Scandinavian languages are presented on the same line, with only those words added in the respective languages that are needed for clear and unambiguous comprehension. It works well where space is restricted, too. 
For marketing copy and text that is directed at consumers, you'll want something that holds a high level of quality and flow in the target language – sentences that not only give a literal translation of the source text, but really communicate your brand, your product and your quality on every line. For this, the approach that tends to work best is trans-creation, a combination of translation and creative writing.  
For technical, medical, financial or legal translation, and not least corporate communication and a plethora of other text types, Sandberg has distinct approaches and experts in the various fields to handle them correctly. 
How to get started?
When working with multilingual content, one of the first steps to effective communication is to create a style guide. Without detailed guidelines, everything is open to interpretation. A style guide is especially important during the process of international expansion, as it is essential to calibrate every possible factor that can impact the quality of the interactions and ultimately your capacity to persuade in the long-term. 
Another point to consider is consistency in the use of language. The same word or expression can be translated in different ways, but this hinders the effectiveness of your message. Developing a glossary of common terms is an easy and practical way to get your target audience familiarised with your brand's terminology. 
We at Sandberg have amassed cultural and language expertise over 25 years as we have supported businesses in building the linguistic and emotional bridges to the Nordic consumers' hearts and minds. If you'd like to know learn more on how adapt your communication for Nordic consumers, we're happy to offer a free localisation consultation.