As is annual tradition at Sandberg, we're currently running our festive fundraiser campaign for Translators without Borders. This year, TWB are running their Language for a Just World appeal, which aims to raise $100,000 to help use language to build a more just world.
Four members of the Sandberg team have signed up to compete in our 2020 challenge: Bake-Off for Translators without Borders. Each of the participants will have to bake a traditional Nordic Christmas recipe, and as we hit our donation targets of £150, £300, £500 and £750, we'll post each baker's recipe here, along with pictures of the final result!
We know it's been a tough year for everyone, but it's been even harder for those without access to basic health information in their language. Please consider donating to help us reach our overall target – it's quick and easy to give on our JustGiving page.
? £150 – Christina's vaniljekranse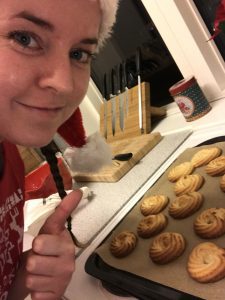 First up is Christina, with her classic vaniljekranse or "vanilla wreaths". These all-butter biscuits are a hallmark of Danish Christmas tradition, and their distinctive shape is recognisable to many around the world. What's more, they're easy to make with only six ingredients! The only special tool you need is a piping bag with a star-shaped nozzle, which you can pick up cheaply and easily online.
We think they turned out pretty great, and Christina certainly seems happy with the result!
Recipe for vaniljekranse (Denmark)
This recipe is adapted from Mette Blomsterberg.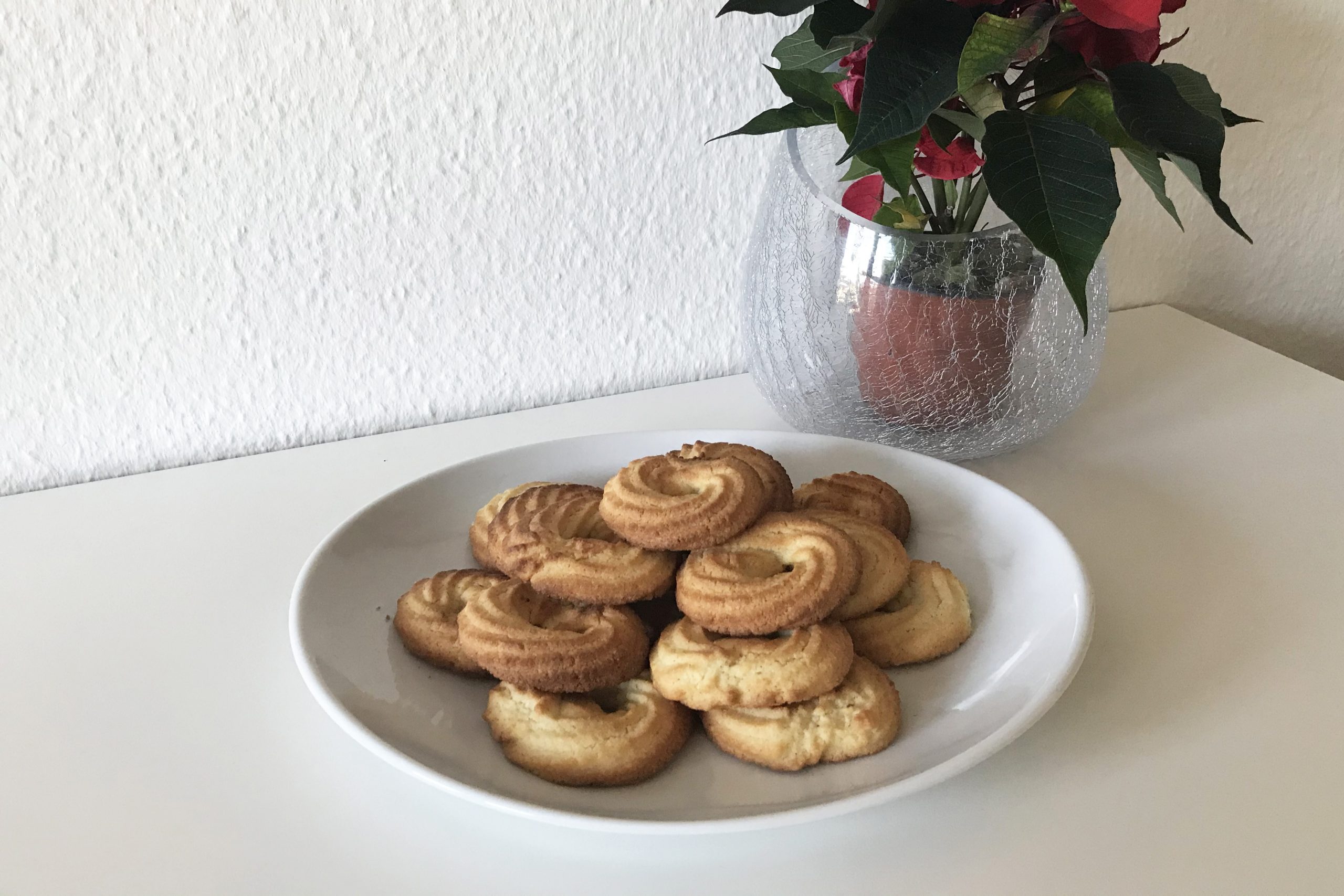 Ingredients
Makes approx. 35 biscuits
200g softened butter
½ vanilla pod
180g sugar
1 large egg
250g flour
75g ground almonds
Method
Pre-heat the oven to 220°C/200°C fan. Take the butter out of the fridge well in advance so it's reached room temperature by the time you start.
Split the vanilla pod lengthways and scrape the seeds out with a paring knife. To separate the seeds, mash them together with a pinch of sugar on the chopping board using the knife.
In a bowl, mix your homemade vanilla sugar with the sugar and soft butter. Beat in the egg. Mix the flour and ground almonds thoroughly and knead it into the dough.
Transfer the dough into a piping bag with star-shaped nozzle (10 mm) and immediately pipe into wreaths approximately 5 cm in diameter on a baking tray lined with baking paper. Leave a gap between each biscuit so they don't bake into one another in the oven.
Bake the biscuits in the oven for 10–12 minutes or until they are light golden brown. Allow the biscuits to cool on a cooling rack and store them in an airtight container.
?? £300 – Line's pepperkaker
Next we have Line, with her take on pepperkaker, literally "pepper cakes". Whilst these ginger snaps are popular all over the Nordic countries, they play a special part in a kicking off the Christmas preparations in Norway. Pepperkaker are one of seven types of biscuits Norwegians traditionally make before Christmas, and both young and old enjoy baking (and eating) them.
A lot of children will know the Pepperkakebakesangen (literally "The pepper cake baking song") by beloved Norwegian writer and illustrator Thorbjørn Egner. In the song, the unfortunate baker mixes up the amount of sugar and pepper (just a liiiiiiittle bit of sugar and A LOT of pepper). This might be where our idea of pepper being a central ingredient for these cookies come from. Line says, "Upon looking for recipes for my own batch, I came across a fair few that didn't actually use any pepper at all, but to live up to its name, the recipe below does contain a bit of pepper."
In addition to being a lovely snack, a lot of people may also fashion decorations out of pepperkaker. By making a hole at the top,http://mirziamov.ru/mfo-online/zaim-zaimer.html you can thread a red ribbon through to hang the cookies either on your Christmas tree or in your kitchen windows. The lovely smell of ginger and cloves is an added bonus.
Line says, "Cookie cutting will hereby go down as a special skill in my books. Making the dough was fairly easy and can be done in about 30–45 minutes. Cutting the cookies the next day was another case entirely. If I were to put my creations up in the windows, they might not draw the right kind of attention. My stars all came out a bit wobbly, looking more like a dancing Patrick Star (from SpongeBob) than any Star of Bethlehem. And my Christmas trees cakes might make the neighbours wonder why I have put poo emojis up in my windows!"
Recipe for pepperkaker (Norway)

Ingredients
Makes approx. 40 biscuits
100g butter
75ml golden syrup
125g brown sugar
75ml single cream
½ tbsp ground cinnamon
1 tsp ground ginger
⅔ tsp ground cloves
⅓ tsp ground black pepper
1½ tsp baking powder
240g plain flour
Method
Melt the butter in a saucepan. Add the golden syrup and stir. Allow the mixture to cool until lukewarm and pour into a large bowl.
Add the sugar, cream and spices. Mix well. Add the baking powder with a little of the flour.
Add the rest of the flour. The dough should be slightly loose. Wrap in cling film and leave to rest in the fridge overnight.
The next day, knead the dough on a floured surface and roll it straight onto baking paper to avoid having to transfer the biscuits to a different tray. Roll the dough out until about 2 mm thick. Cut into shapes using cookie cutters, removing the excess dough. Add the excess to your remaining dough and keep cutting until you have used all the dough.
Bake the biscuits in the middle of the oven at 200°C/180°C fan for about 10–12 minutes until they are darkish brown in colour.
Once baked, allow the biscuits to cool slightly on the tray before transferring them to a cooling rack.
??? £500 – Eloise's mincemeat shortbread
Next we have Eloise, with her twist on two British classics. A staple of the Christmas table in the UK is the beloved mince pie – a small, shortcrust pastry pie filled with a mixture of spiced currants, dried peel and suet (the "mincemeat"). But who says you have to stick rigidly to tradition? Most British cupboards have a forgotten old jar of mincemeat sitting somewhere near the back, so a great way to use some up is sandwiched between two layers of shortbread biscuit.
Recipe for mincemeat shortbread (UK)
Eloise uses BBC Good Food's recipe, available here. Alternatively, you can follow along with her in the video below!
???? £750 – Adam's saffranskaka
Finally we have Adam, with his Swedish saffranskaka (saffron cake), which he baked for his son's birthday. This cake is a classic Christmas treat in Sweden, but here Adam uses a gluten-free recipe. The mandelmassa (almond paste) can prove tough to find outside of Scandinavia, but it appears to be readily available online. For you hardcore bakers, you can make your own. In a pinch, you can substitute with marzipan, but this might change the taste of the final product.
Recipe for saffranskaka (Sweden)
This recipe is adapted from Fredrik Nylén, Swedish Bake-Off contestant and parter of one of our own translators!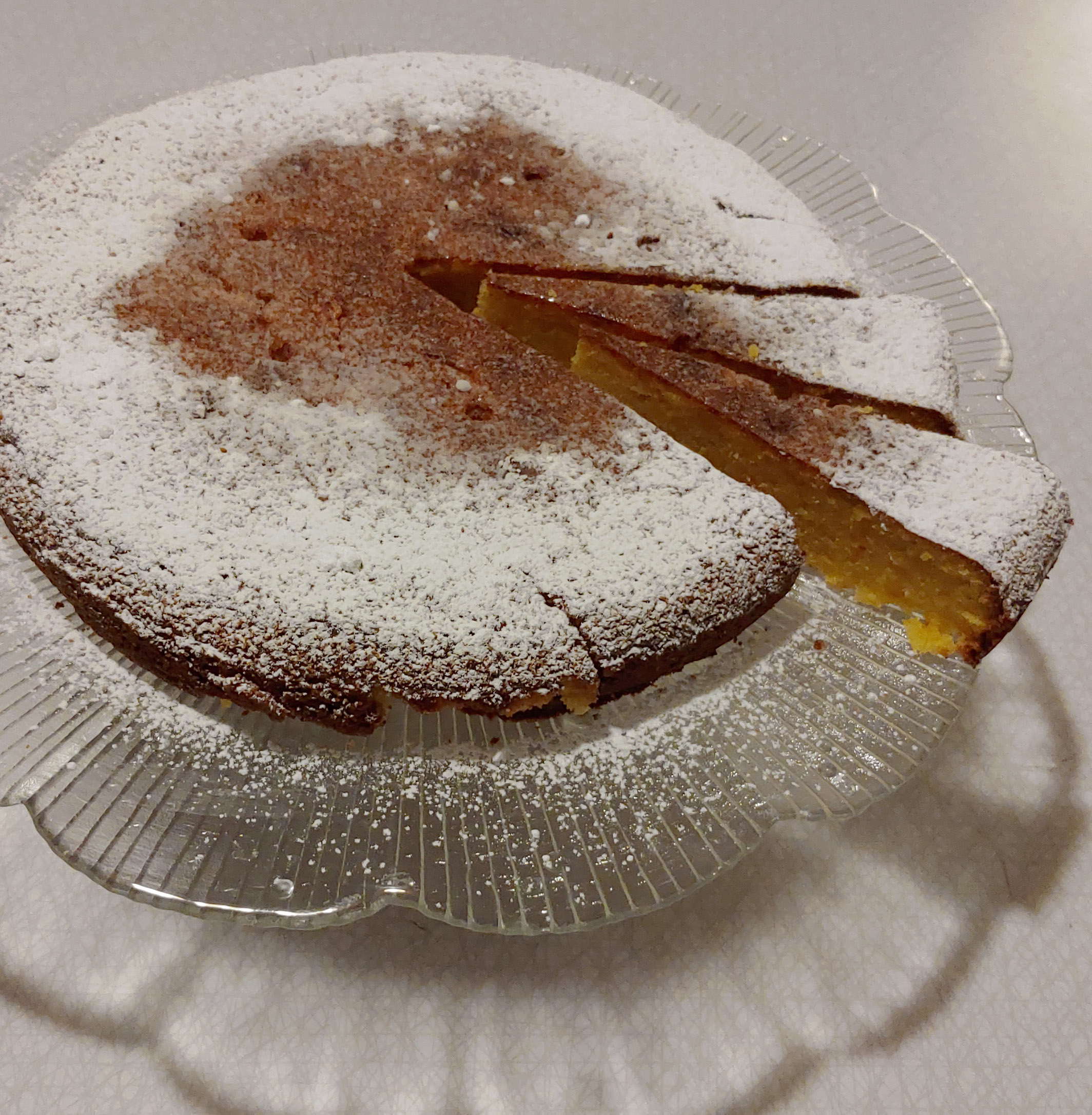 Ingredients
Makes one gluten-free cake
100g butter
0.5g saffron (one sachet)
4 eggs
400g grated almond paste
1 tsp baking powder
Shredded coconut (for lining the tin)
Method
Heat the oven to 195°C/175°C fan. Melt the butter and saffron together and allow it to cool slightly.
Grease a 24 cm springform cake tin with butter and sprinkle the coconut around the inside of the tin.
Separate the eggs into two bowls. Whisk the yolks, almond paste, butter and baking powder together.
Whisk the whites until they form stiff peaks and fold gently into the batter.
Pour the batter into the tin. Bake in the centre of the oven for 35 minutes.
Let the cake cool for 10 minutes in the tin. Transfer to a plate and allow to cool completely.