Earlier this week, our Managing Director Anu Carnegie-Brown introduced us to the Nordic Easter tradition of egg decoration. The method she taught us involved dyeing the eggs without removing the contents, meaning you can still use them to cook with later on (unless you've boiled them of course). With eggs and certain other ingredients a tad difficult to get hold of at the moment, it's wise not to waste food.
In that spirit, I asked some of my Nordic colleagues about the kind of food they traditionally cook and eat at Easter time. Below are the recipes I gathered – most of which do use eggs!
1. Mämmi
According to our Finnish Account Linguist Laura, this dark, gloopy, malty substance is a firm favourite of Finns at Easter time. Its resemblance to something you might flush down the toilet might be off-putting at first, but I have it on good authority that this is a delectable treat. Mämmi is normally made in large batches due to the amount of effort required, so there's always plenty to go around.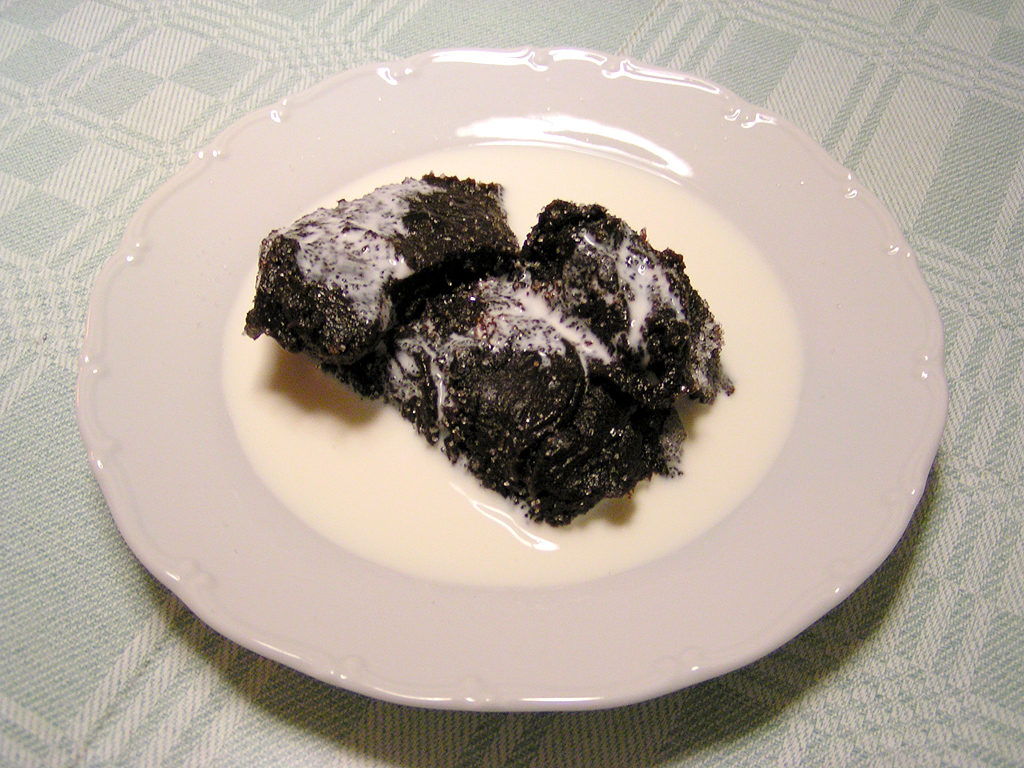 The basic dish is based on rye flour – malted, unmalted or both – but can be pimped up with all sorts of ingredients, from molasses to orange peel to raisins. It's then served with cream and icing sugar on top. Most recipes I found required the pudding to be baked for 3 hours, but there was one with a cooking time upwards of 7 hours (!).
By far the easiest to follow was Cooking Finland's version – it only requires three ingredients. Finnish Food Girl's version (US units) is slightly fancier with the addition of orange and raisins for extra flavour, so depending on what you have to hand, you can tone your mämmi up or down. 
2. Pasha
Next up is pasha, a sweet dessert served in Finnish Translator Aino's family at Easter time. It resembles a pyramid with the peak chopped off, and is made with rahka (quark) or curd. The whiteness of the cheese is said to resemble the purity of Christ. Its name is derived from Pascha, the Eastern Orthodox celebration of Easter, whereas the dish itself originates in Karelia, a region which is split between Finland and Russia.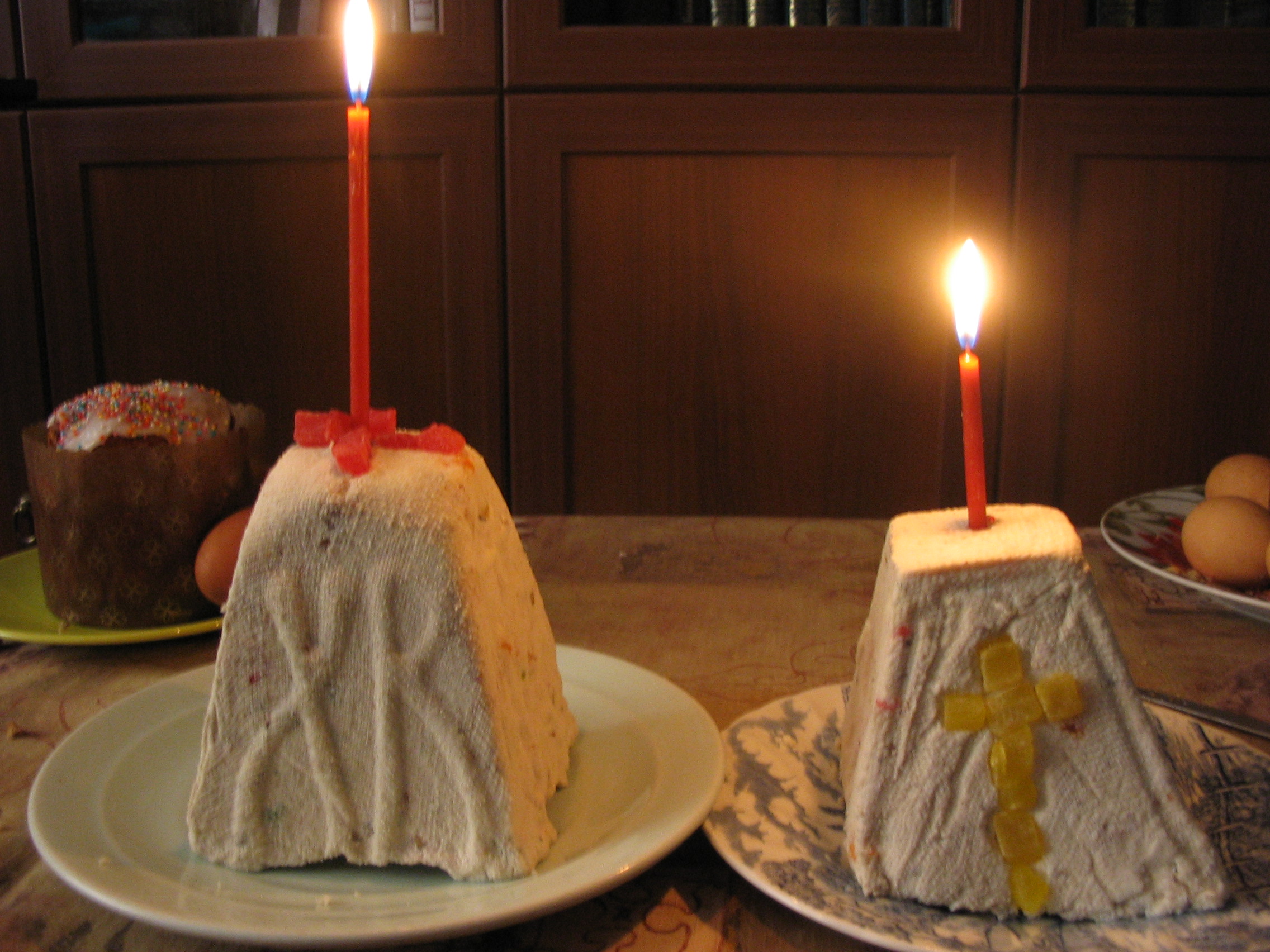 To achieve the unique pyramid shape, a special mould is needed, although in lieu of this a clean terracotta plant pot will suffice, according to the Gourmetpedia recipe. This recipe actually calls for curd, but quark can be easily substituted for this and is available in supermarkets and Eastern European food shops in many countries, including the UK. If this is not available, cottage cheese can also work.
The other main ingredients are soured cream, eggs and sugar, along with flavourings such as lemon peel and vanilla. Dried fruits such as raisins and cherries can also be added. Cooking Finland's version of the recipe includes all of these, and the author rather ingeniously recommends using a coffee filter to strain and mould the dessert.
3. Marzipan
Although Middle Eastern in origin, almonds and by extension marzipan are widely consumed in the Nordic countries. Norwegian Translator William mentioned his family Easter tradition of making their own marzipan.
There doesn't appear to be a specifically Norwegian marzipan recipe, so I recommend going with BBC Good Food's "easy" version. It calls for caster sugar, icing sugar, ground almonds, vanilla seeds, eggs and apricot jam. If the sugar and eggs are hard to get hold of at the moment, then pre-made marzipan will do for all sorts of recipes.
One of the best-known Norwegian recipes to use marzipan is the Hvit dame ("White lady") cake, which consists of alternating layers of sponge and whipped cream topped with a layer of marzipan. If you have a lot of time on your hands this Easter and no shortage of baking ingredients, then you might wish to give Paul Hollywood's version a go.
4. Janssons frestelse
Swedish Translator Lena mentioned that many of the same foods are eaten at Easter and Christmas time in the Nordic countries. As elsewhere, a large part of what makes a food festive is its luxury component, using ingredients that would traditionally have been very difficult or expensive to procure.
With that in mind, for the sake of variety we'll conclude this blog post with a savoury dish. Janssons frestelse ("Jansson's temptation") is a sumptuous gratin consisting of potatoes, onions, sprats and cream topped with breadcrumbs and baked in the oven. Sweden.se bills it as a Christmas dish (follow link for recipe), but it's also commonly eaten at Easter in the country.
One linguistic point about this dish: the recipe calls for sprats, which in Swedish are known as ansjovis. Don't get these confused with anchovies warns BBC Good Food, as they'll make the dish far too salty (you can read more about the naming confusion here).
---
Whether and however you celebrate Easter, it's certain that over the long weekend ahead we'll all have a bit more time at home than usual. One thing we can still do to pass the time is cook, even if certain ingredients are trickier to get hold of right now. Don't be afraid to explore substitutes where possible. Often one type of flour or sugar can be replaced with another, and many dairy products can be swapped about, although you might end up with a slightly lighter or heavier result than expected.
From everyone at STP, we wish you a relaxing and enjoyable Easter break!