Language barriers have a profound impact on companies looking to expand into overseas markets, and manufacturing firms are no exception. A recent report showed that "22% of manufacturing companies report that they couldn't pursue, or that they lost, business due to language barriers". An inappropriate translation, or indeed no translation at all, could lead to non-compliance with local regulations, inability to get a patent, loss of interest in your products, or significant delays in your international growth plans. 
By utilising professional translation services, you increase your chances of successful global business expansion. But why is it necessary to translate your content, and what is the best way to go about it? 
International presence calls for international communication
Whether you specialise in toothpaste or industrial equipment, and everything in between, it's undeniable that international trade allows you to take advantage of economies of scale, and that's why you're constantly identifying gaps in markets that your products could fill. You probably also have sales offices and production centres on different continents, and your procurement chain may reach across borders to suppliers who don't speak your language. 
One of the key factors in successful international business is ensuring clear communication with all stakeholders. We tend to think of our prospective clients first, and it's true that with properly localised technical documentation and marketing materials, you can deliver smarter product content, which in turn yields a better customer experience. But it's also important to bear in mind the rest of your stakeholders when developing your multilingual content. 
Multilingual content aids new business development
Relevant content in the local language helps forge stronger bonds with your in-country staff and the networks they are trying to build in a new market. Furthermore, making the effort to localise content for your overseas supply chain shows commitment and goes a long way towards facilitating smoother relationships with those suppliers. 
See below how you could categorise the content you are considering for translation. Start by mapping out your stakeholders and content types, then proceed to prioritise them in terms of how much value localising them could add to your new business development goals.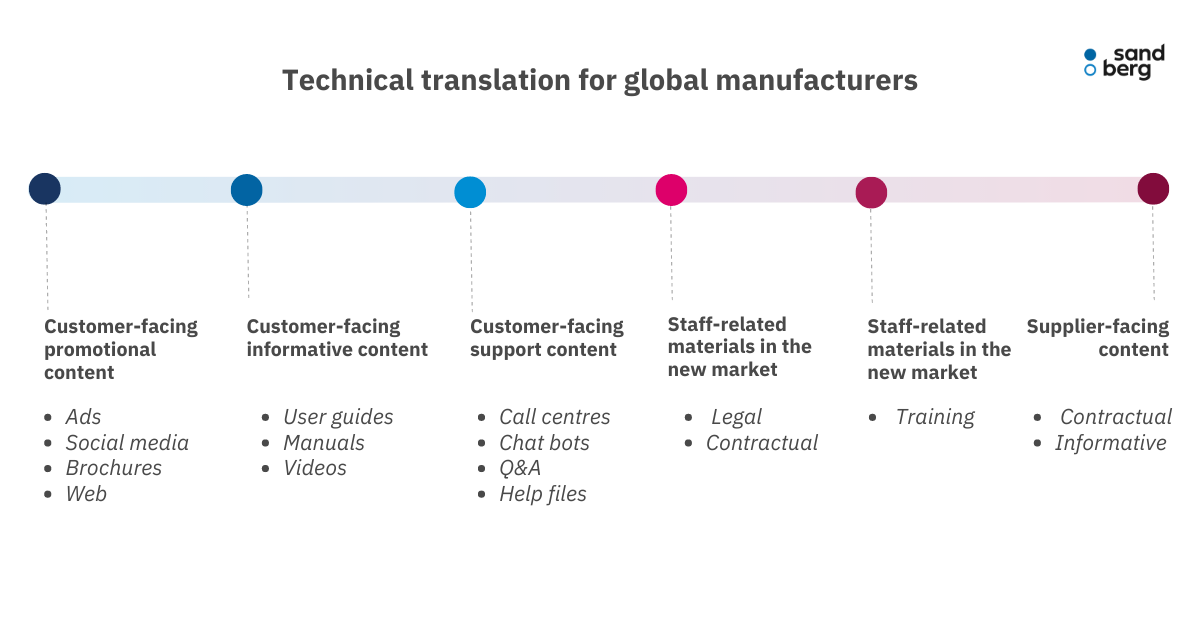 From user guides to marketing brochures and mobile apps, translated customer-facing content allows you to serve your clients with local content at every step of their customer journey. Start by investing in campaigns for your brand's visibility, before providing localised content that makes your customer's purchasing experience as seamless as possible. They can then be supplied with instructions that enable them to become power users of your product.  
When establishing a local presence in a new market, you may choose to work with an importer or a local representative. If you opt for hiring staff, however, you'll need advice on local regulations and contracts which may differ from those in your country. Manufacturing companies – from production to marketing to sales – are no strangers to complying with strict standards and regulations, and those apply to people as well as to manufactured products. Adhering to HR laws and the best local employment practices, translating or subtitling internal messages and staff meetings, and making training available in the local language are all measures that will differentiate you from the local competition as a committed, equal-opportunities employer. Your new employees will undoubtedly appreciate working in an international environment, and beyond this, the security of being able to check back on internal communication or important instructions in their own language is of great value. 
What type of content needs to be translated?
Instead of assessing your content from the point of view of who it's intended for, you could prioritise it according to its purpose or place in your product's life cycle. Here are the content types we are most frequently asked to localise for businesses in the manufacturing sector: 
Patents 

 

Technical documentation

 

Hygiene and safety procedures

 

Operation and maintenance manual

 

Installation guides

 

Quality assurance manuals

 

Websites and marketing content

 

Online help and FAQs

 

Training and e-learning materials

 

Legal documents

 

End user licence agreements and terms of service

 

Packaging labels

 

Advertisements

 

Brochures

 

Flyers

 
Reaping the benefits of translation memory
When it comes to technical content, your documents most likely contain repeated words and phrases. Repetition is, in fact, a key feature of technical texts and an important writing technique for achieving text cohesion. 
The repetitive nature of technical writing lends itself well to the use of translation memories (TMs). These are language-specific databases that store all your translations so that when the same phrase comes up again, the translator can remain consistent with what has already been worked on. When using translation memories, you never have to pay for the same translation twice. 
Using TMs makes localisation more cost-effective, as well as supporting translators in their work and guaranteeing that your technical terminology is applied consistently throughout your corporate documentation. TMs also speed up the localisation process, ultimately improving your time to market. 
Ensuring consistent use of technical terms
Working with specialised technical documents requires a certain level of subject matter knowledge. Industrial manufacturing documents such as patents, user manuals, product specifications and operating instructions contain technical terminology that can introduce confusion in communication between people who do not speak the same native language.  By maintaining a multilingual glossary of key terms, you can ensure that your staff and supplier teams in different countries – as well as the teams at your partner translation company – have a single source from which they can always check the definitions and correct language equivalents of each key term.
Avoiding ambiguity with abbreviations and acronyms
If you look up an abbreviation in a bilingual technical dictionary or use a search engine to find the explanation for an acronym, you might find that the same abbreviation can be defined in a number of different ways. Because of this, it can be helpful to make a list of key abbreviations and acronyms used in your field, alongside their correct definitions, in your glossary. They can then be translated into all your core business languages as you wish. 
Using machine translation when it makes sense
Machine translation (MT) is a complex and constantly evolving technology. Just like translation memories, machine translation tends to work well with repetitive technical content. This is great news for global manufacturers, but it's important to remember that the intelligent use of MT involves constantly assessing translated output as well as the risks involved in using that output without any human quality checks.  Any operating instructions or other content where a mistranslation could cause harm to humans, the environment or indeed the business's reputation, should be fully post-edited by a human translator. 
Getting the best out of your language service partner
Translation and localisation don't happen in a vacuum – the end product will always be better when you tell us about the bigger picture. How do you intend to use this piece of content? Who will be reading/watching/hearing it? How deep is their subject-matter expertise? Where in the world will they be? Do they have access to your glossaries of established terminology, acronyms and abbreviations? Are you looking to persuade or inform them? How do you want your tone of voice to come across? 
In addition to sharing these insights with us, it is a great help to have access to any translation memories or previously translated texts in the relevant languages you may have, as well as your reflections on how those texts were received by your target audiences. We need to know if we should continue in the same vein or change tack altogether. It is also always helpful to receive reference material, for example websites and brochures about the topic, either in the source or the target language. Previous translations of the same content into other languages can even be useful within our workflows.