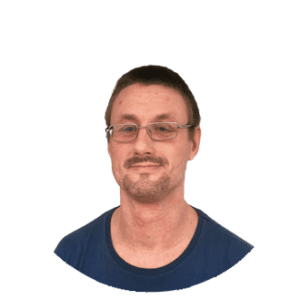 With over eight years of loyal service, Jørn Bjørnerem is the sixth longest-serving member of STP's in-house translation team. Jørn's path to his current role of Senior Norwegian Translator has been unconventional, and includes one of the more unusual career changes you're likely to see. But his translation journey might never have even started at all – had it not been for a life-changing trip to Africa 16 years ago.
So, Jørn, how did you first get into languages?
I had my first English lesson when I was nine. We learned two things: "What is your name?" and "My name is X." I remember using those phrases on as many people as I could at break time after class. It was so exciting to communicate in another language.
How did you go from there to a career in translation?
In the early 2000s I toyed with the idea of taking out a student loan to fund a translation course. However, it was a big commitment for me at the time, for various personal reasons, and I lacked the confidence to go through with it.
That changed in 2003 after a trip to Africa, where I saw how hard life is for so many people. It made me realise how lucky I was to have the chance to study at all. It also helped me to find my faith, which has since become a massive part of my life and ultimately pushed me to pursue my dream of translating for a living.
It was a huge change of direction, as until then I'd mainly worked in salmon farming, close to where I'd grown up. I was also never too keen on the idea of theory or academia when I was at school. But now I was ready to hit the books and go wherever my translation career would take me.
Luckily for us, it brought you to STP. How did you first hear about the company?
In January 2006 I enrolled on the Translation Studies course at the University of Surrey in Guildford. There I met a lecturer who worked for STP as a freelancer, and she mentioned the possibility of working for the company at its UK headquarters.
So, while writing my dissertation, I started applying for various translation roles – including an in-house position at STP. A different agency invited me for an interview in the meantime and offered me a job. But the range of translation topics there was just too narrow, and I declined the offer.
Later, after sending a couple of test pieces to STP, Jesper Sandberg [the company's founder] asked me down for an interview. He spoke passionately about the translation industry and explained the varied nature of STP's work. And I thought, "Yes, this sounds more like me."
Jesper later offered me the job, and I joined the company in November 2007 – just over four years after the trip to Africa that started it all.
You've been with STP for more than eight years now. What've you enjoyed most about working here?
For the first six months I woke each day and thought: "I'm translating for money!" I was – and still am – so grateful to be able to live out my dream.
STP demands the highest quality, so I've always had a lot of help and support to develop my skills. It was great to learn from my more experienced colleagues in the early days, and the varied work gave me all sorts of challenges and opportunities to improve.
For me, as a translator, that variety is what I love most about STP. Over the years I've learned to be a good technical translator, but I also enjoy the freedom of marketing texts. Mostly, though, I'm happy to be a generalist: not specialised in anything, but experienced in most things.
What would be your dream project?
Any job where my translation helps make a positive difference.
Any advice for new translators starting out in the industry?
Listen, absorb and be willing to take suggestions from others. Be open to using different tools. And above all, never stop learning and improving. There is always more to know.