It's the most wonderful time of the year and one thing's for sure: we all have our own very special ways of celebrating. While it's likely that Christmas will be quite different in 2020, that doesn't mean we can't find ways to uphold our traditional celebrations. Here at Sandberg, we love to learn about each other's cultures, so this Christmas we're taking the opportunity to find out more about how we each unwind over the festive period.
1. Rockin' around the Christmas tree ?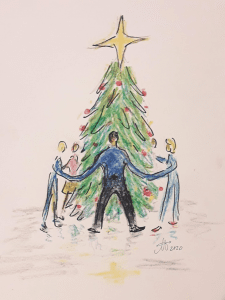 A much-loved staple of Christmas in Norway centres around the Christmas tree, or juletre in Norwegian. Families gather to hold hands and sing traditional carols, all while circling the decorated pine. It's a favourite tradition of Norwegian Translator William, who explains: "Traditionalists in Norway will not decorate the tree until 23 December, or 'little Christmas eve', in readiness for the actual Christmas eve (julaften) on the twenty-fourth. Across Scandinavia, this is the big day of the feast, when presents are opened. The revolving procession and hand-linked singing of Silent Night and other classics therefore marks a grand and special opening of the twelve days of Christmas."
In years gone by, a more public expression of this tradition has been a common sight up and down the country. Communities host Christmas tree parties for locals to celebrate together, often forming several rings, one outside the other, around a large public tree. While this practice may not be possible this year, William hopes "that it may be in for a revival after the current pandemic, when people realise how valuable it is to hold another person's hand and join in the joyful singing of silly ditties and solemn carols."
2. Feasting in odd numbers ?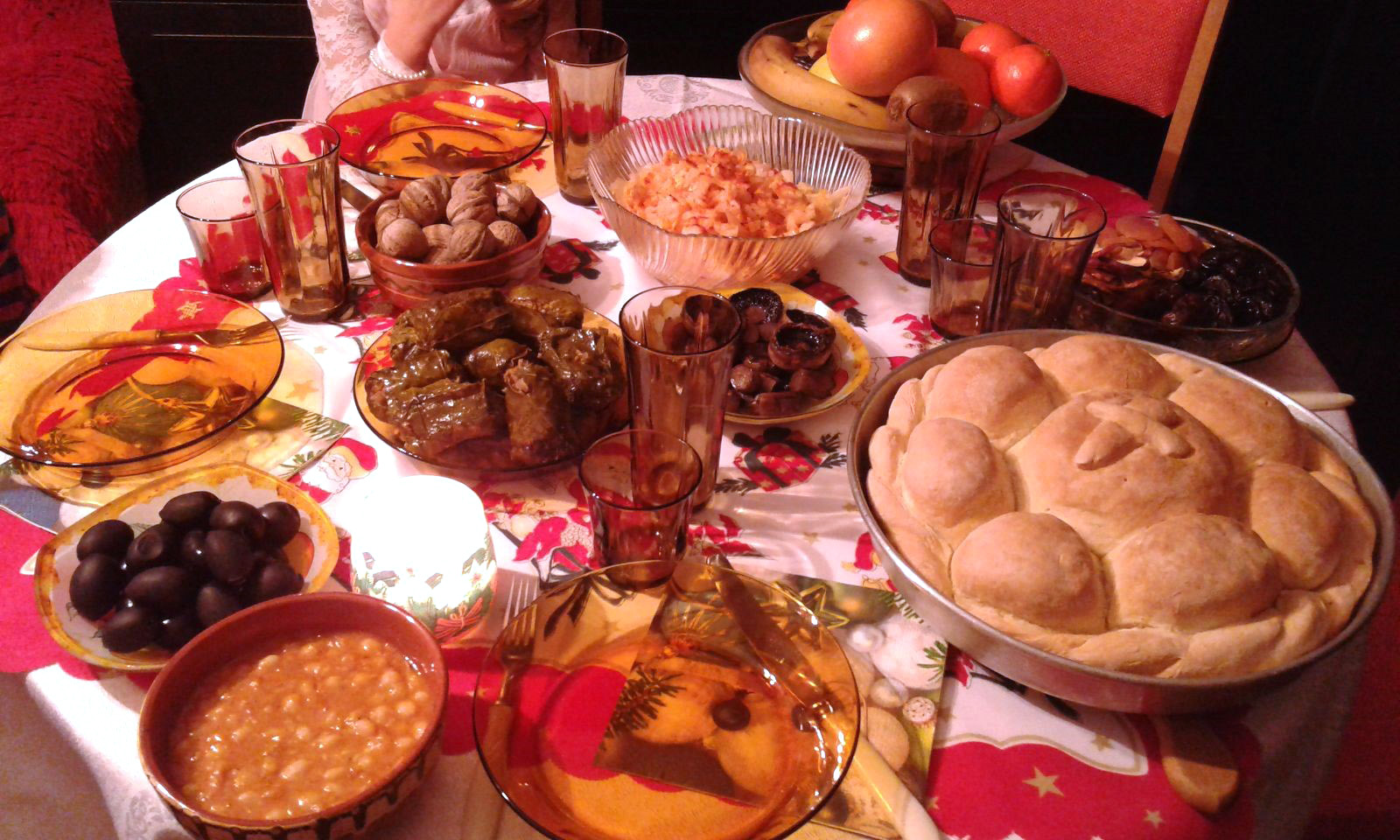 The night before Christmas (Badni vecher) is very important in Bulgaria, as it is when the main festivities take place. "It's the time when the whole family unites and prepares the holiday dinner," explains Business Administration Advisor, Radostina. "There are seven or nine dishes, but they have to be meatless. We prepare a traditional bread with a coin hidden inside before the bread is baked. It's believed that the person who gets the chunk with the coin will be the richest in the coming year." It's not clear where the importance of the odd number of dishes originates from, but it's said to bring good luck.
3. Taking the (polar) plunge ?‍♀️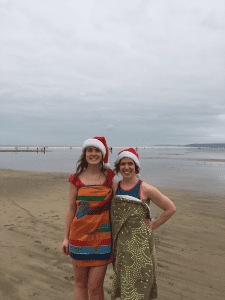 There's nothing like wading into ice-cold water to shake off that festive over-indulgence, and it is a tradition that continues to grow in popularity around UK shores. Buoyed by the yuletide spirit, thousands take to the sea each year, braving water temperatures that average a biting 6–10 °C. "A Christmas Day, Boxing Day (26 December) or New Year's Day swim is becoming a new tradition for me," says Production Manager and keen swimmer, Amy (pictured right). "The day usually depends on my location and how much mulled wine was consumed the night before!"
A New Year's Day dip is also a favourite ritual of Swedish Translator Lena, who now lives in the UK. "It is something I do every New Year if I am spending it in Malmö, where I go with a friend to a kallbadhus [a type of bathing house with direct access to the sea], which we have loads of around Sweden. This is one of the things I most miss in the UK, and I'm now being forced to learn how to swim in the sea without having a sauna before or after!"
4. Decorating with candles ?
Many of us will soon be adding some sparkle to our homes and trees with fairy lights, but for some of our Nordic colleagues, using real candles on their tree is still the way to go. Finnish Account Linguist Aino, explains: "My family, to the horror of my English husband, still use real candles on the Christmas tree. My parents' house is wooden, but over all these decades, there have been no accidents…!"
It is a family custom that is also close to translator William's heart. In his house they use candle holders passed down from his grandmother. "Every Christmas Eve, we turn off all the lights, so all you can see is the real candles on the tree," he says. "It makes for a magical atmosphere."
5. Stepping into the new year ?
New Year's Eve brings with it a whole host of global traditions and celebrations, and just one of those practised by some of our UK colleagues is the ritual of "first footing". This is an ancient Gaelic custom which places great importance on the first person to cross the threshold of your house at the beginning of the new year, often bearing gifts for the household and receiving food and drink in return. It is thought that this tradition dates back to the time of the Viking invasions and it is for this reason that it's considered very unlucky for a fair- or red-haired person to be the first footer!
"My dad insists on first footing at New Year," says English Account Linguist Mary-Anna. "Nowadays he leaves and comes back in, although when he lived in Glasgow he used to either first foot all of the neighbours or essentially do a party crawl and first foot all of his friends… A very efficient way to get a few free drinks!"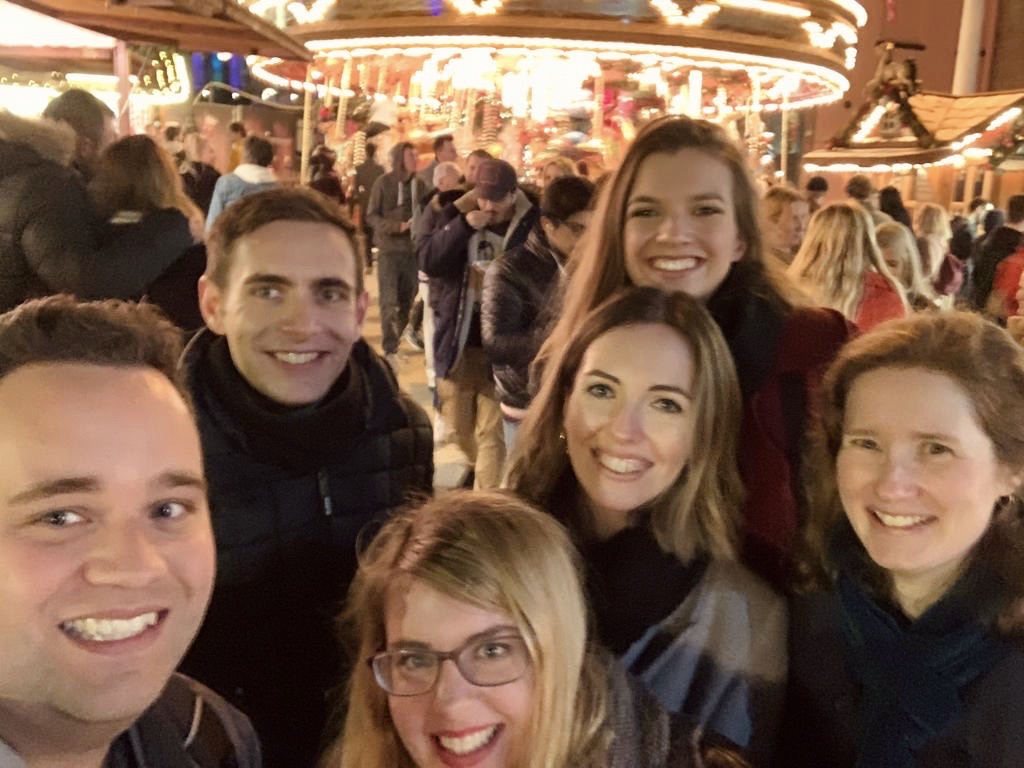 And no British New Year's Eve party would be complete without a rendition of Auld Lang Syne, written by famous Scots poet Robert Burns. "At midnight on New Year's Eve we always gather with the family or neighbours in a circle (sometimes in the middle of the road), cross and hold hands, and sing Auld Lang Syne," says HR Advisor Melissa. "Then we open the front and back doors to let the old year out the front door, and the new year in through the back."
6. Watching a Christmas classic ?
And finally, for some of us, curling up on the sofa in front our favourite festive film is about as Christmassy as it gets. Cue blankets, hot chocolate… a crackling fire if we're lucky! And while many may opt for a heartfelt drama or a cheesy rom-com to get them in the Christmas mood, for Norwegians, the main draw of their favourite holiday movie might have less to do with the film itself, and more to do with the questionable voiceover. Norwegian Account Linguist Ingrid, explains: "One of my very favourite Christmas traditions is watching the film Tre nøtter til Askepott (Three Wishes for Cinderella) at 11am on Christmas Eve. It's dubbed into Norwegian with just one man doing all the voices. If that sounds ridiculous, that's because it is! But I and a good chunk of the Norwegian population watch it and make the same jokes about it every single year."
---
Hopefully we have introduced you to some new festive traditions, one or two of which you might even want to try out yourselves. However you choose to celebrate this year, we at Sandberg wish you a safe and happy festive season and a prosperous new year to come!