Those three little words, 'home for Christmas', have been on my mind recently. They've featured high on my Spotify playlists, I've bumped into them in Netflix storylines and they've been in the news as students in the UK have fretted about them. With the struggle to get home to family affecting so many this year, I thought I'd write to Santa about it.
Dear Santa,
I was looking forward to coming home to see you, but as the Finnish borders remain closed to non-resident foreign nationals (e.g. husbands) and visiting ex-pats would have to spend most of their time in quarantine, I've given up on that plan. With your low numbers of COVID-19 cases, I understand why you wouldn't welcome people home this Christmas.
How are you coping with the travel restrictions yourself? I bet you're anxious to toe the line and set a good example… but some jobs simply have to be done. I guess your sleigh rides qualify as work-related travel, so on those grounds maybe the authorities will let you fly.
Here at Sandberg, we decided not to post out our usual Christmas hampers but have opted to send our staff virtual gifts instead. We hope to minimise spreading the virus and save the shops' delivery slots for those who are self-isolating. In doing so, we've also reduced international air traffic which should leave you more space in the skies when you set off on your big night.
How has it been at your workshop this year? Have you had to redesign, to accommodate the two-metre rule? We closed our offices nine months ago and moved everyone to work from home loans-cash.net. But we have continued to recruit new staff throughout the year, which has made learning how to train colleagues without being next to them in the office an interesting challenge! I'm proud to say our teams have done extremely well.
It's been such a grumpy year here in the UK. I expected our main struggle to be in preparing for business with the EU from 1 January 2021, but now I know better. Whilst there's still no clear guidance on what will happen in just over a fortnight, the country battles with disunity and distrust around many other important decisions too. And we have lost more lives to COVID-19 than virtually any other European country, whilst the government's borrowing has reached unprecedented levels.
However, I'm mindful of those who've had an even tougher year. This month, we are once again fundraising as a company for Translators without Borders' Christmas campaign. Have you seen the goodies my Nordic workmates have baked for that project!? Please distribute some holiday cheer to everyone who has helped by donating on our JustGiving page.
Santa, your elves always seem so chirpy and happy, what's your secret? My colleagues sometimes get disheartened and I'd like to be better at supporting them. I try to impart direction, inspiration and training through Teams, webinars and video, but it's not always easy to gauge how it's received and whether it's enough. I appreciate every opportunity to hear from the teams beyond what I get to see in numbers and reports.
You know what I'd like for Christmas 2020? To have your powers. I'd like to be able to see my colleagues where they are. Not to see who's naughty or nice, but to know their mood and how they are. Throughout the year I know they will have skipped lunch to make sure a translation project kicks off promptly or stayed up late to sort out our virtual infrastructure. I'd love to hear what they think at those times, and what their longsuffering spouses think too!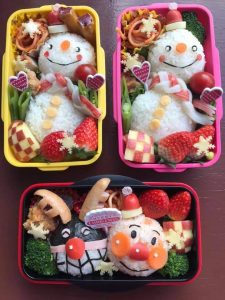 At our online catchup meeting last week, my management team opened the virtual doors to their private lives and shared photos of how they've decorated their homes this Christmas. We had pictures of inventive 3D advent calendars, fully decked trees, stockings, Christmas cakes, home-made paper stars… and I was even introduced to the concept of Christmas-themed Japanese bento lunchboxes (pictured right, as fashioned by Tomomi, the sister-in-law of Sandberg's Operations Manager).
Wow, it felt great to peep past our professional lives and share private interests and aspirations!
Santa, I know that you rely on your teams, and I do too.  Many of my colleagues and fellow localisation industry members live a long way from home and are not able to visit their native lands this Christmas. It's always a hard time of year to be away from family, but they will likely feel it more this year than ever before. It would be lovely if you could remember them specifically and drop extra goodies down their chimneys as you do your rounds this year.
Thanks and see you around,
Anu